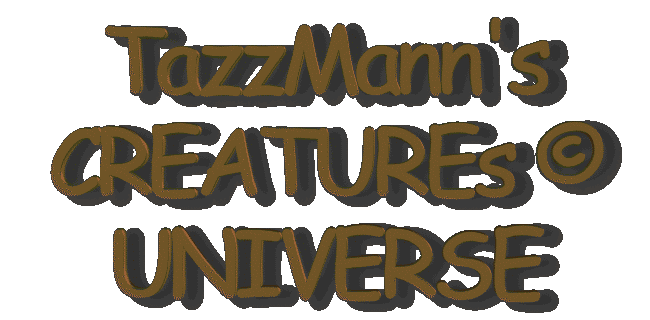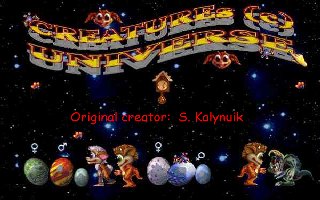 CREATUREs(c).......Where the game is only the beginning.......With all the COB's out on the WWW from either the creator or 3rd parties, its true......The game is only the beginning.......
---
I am pleased to announce that Creatures©Universe has received an award. Thankyou very much!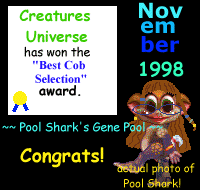 ---
The mainstay of this site is the many COB files created by numerous 3rd party authors. Information on the individual authors' websites and how to contact them is covered on the Authors' Page. (Most of the cob sites are either gone or have changed location. I'll have to do some research and see if I can get things updated. TazzMann 3-29-13)
If you are interested in the various utility programs available for CREATUREs©, please check the Utility Page for links to the sites where you can find them.
TazzMann
NOTE: Installation instructions for COBs can be found on the Utilities Page
---
Please note that these files are all for the original Creatures. There are no C2 files on this site. If anyone has any complaints about any of what is contained on these pages please e-mail me with your concerns.
If you have any comments, suggestions, or files you wish to send me then I can be reached at TazzMann
(Please keep in mind that I receive a lot of email and files people would like to have added to the site. I will answer what questions I can as soon as possible but please don't expect an immediate answer. New files will be added as soon as I have a chance to update the site.)
---
---
If you are looking for a particular COB and can't find it here, I suggest going to WHERES THE COB for a listing of most, if not all, of the available COBS for Creatures and Creatures 2.
---
---
This page has been visited...
...times since March 16, 1998
LE FastCounter

This FREE Web space supplied from Tripod
Last updated March 29, 2013 by TazzMann